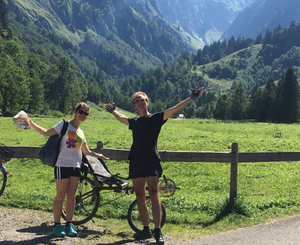 Gary will teach you 100 % without any assistant coach. Gary wants to make skaters to clear the purpose of why you are coming to work with Gary, and what you want to accomplished through sharing time together.  Gary's skating camp is not commercialized camp, group lessons, and mass productions package services.  Gary will have maximum of 3 skaters at the same time, and mostly 1 skater.  Not only Gary spend time with skaters on ice, he will spend time off ice activities to share all of his training method and conditioning including nutritions and his healthy life style.  We spend time with Gary including on ice and off ice about 3- 5 hours per day.  Skater can come by yourself without parents.  We will take care of you, support you to pick up stations or airport etc as well. 
Lesson Price
For Skaters
Rate on ice : 120 euro per 60 minute, and 100 euro per 50 minute for 1 skater. Semi private and group are different price

Rate off ice : 80 euro per session

Budget we suggest to prepare:

2-3 days : 500-800 euro, 1 week : 1500 euro, 2 week : 2800 euro

For coaches bring your group
Group Lesson Rate is higher than private lesson rate. I will send you group lesson rate based on hours, number of skaters and other conditions. Please contact us for detail.

Budget you need to prepare for group:

1 day : 300 - 500 euro, 2-3 days : 800 -1000 euro, 1 week : 1500 - 2000 euro,

2 week : 2500 - 4000 euro

*** This is only for teaching on and off ice charge. You need to pay ice fee, transportations, and also accommodations depend on your choice.

*** Administration fee will be charged based on how many hours of work we need to do organizing camp and visitations. Fee is between 300 euro - 1000 euro.